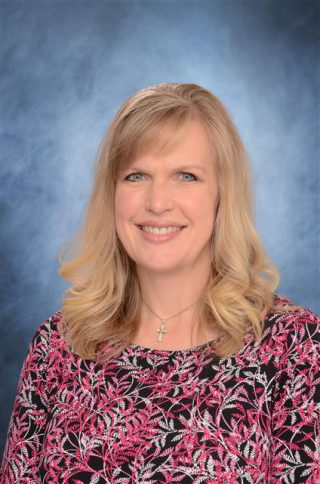 Mrs. Beck
Hello my name is Mrs. Ronda Beck and I am delighted to be your child's teacher this year!  For the last 21 years I have been a stay at home mom caring for my family.  Previous to that I taught kindergarten in District 118 in Belleville at Abraham Lincoln School as well as 2nd grade PSR for 6 years. I am also the Little Flowers Girls club Coordinator for our parish.  My husband Danny and I are parishioners of Holy Childhood along with our seven children.  All of our children have attended HCS and I am a 1987 graduate.  Our oldest, Bridget, is a junior at Magdalen College in NH.  Isaac is a sophomore at St. Louis University. Tommy is a junior at MHS.  Annelise is a sophomore at MHS. Jordan is in 7th, Luke is in 5th, and MaryGrace is in 2nd all at HCS.  My hobbies include singing at mass, watching and playing sports with my kids, and scrapbooking.  I am passionate about sharing my faith and love of Jesus with my own children and now my little pre-k friends!
Please feel free to message me on Class DoJo or call me after school with any questions or info you need to share with me.  I pray that by working together we can have a wonderful school year for your child!
Blessings,
Mrs. Ronda Beck
Last Day of Pre- K, Wednesday, May 19
MATH

Continue to learn ABC patterns

Continue to practice making tally marks

Work on 1:1 correspondence

Continue to learn about the #9

Work on number recognition 1-20
Celebrate our 90th Day of School-April 30
Roll and trace numbers 1-12
Religion
Learn about St. Francis Xavier

Earth is one of God's gifts to us and we must care for it.
LITERACY
Learn all about the Letter Xx what it looks like, how it sounds & words that begin Xx
Write the room with Letter Xx words/pictures
Sing, "He's Got the Whole World in His Hands
Listen to and play xylophones

Make "x-rays" of our hands using q-tips
SCIENCE
Learn about recycling, caring for the earth, for Earth Day
Experiment and create art using recycled material.
abcya.com
makemegenius.com
starfall.com