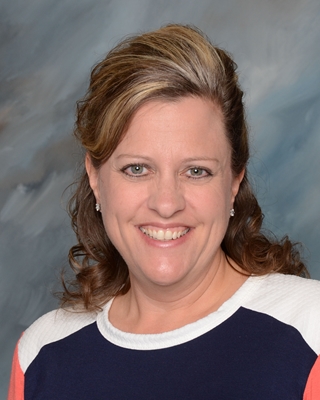 My  name is Judy Schneider, and I am delighted to be your child's teacher this year.  I am a lifetime resident of Mascoutah and both my husband, Tom, and I are Holy Childhood Alumni.  We have been married for 23 years and have three amazing daughters:  Maddie 20, Ellie 17, and Katie 13.
Up until our preschool program started in the fall of 2008, I had been a stay at home mom for 9 years.  Prior to that I taught 3rd and 4th grade at Shiloh School and then taught two years in 1st grade at Laverna Evans in O'Fallon.  I had always said that if and when I was ready to return to the classroom, it would have to be either teaching part time as a preschool teacher or at Holy Childhood where my daughters attend; and now I have both!  I couldn't be more excited to begin this tenth year of our preschool program.
Wed. Sept. 19th = School Spirit Day; wear blue and gold
Thurs. Sept. 20th = Feeding God's People; 7:30am in the cafeteria
Tues. Sept. 18th = last day to turn in Magazine Sales
Thurs. Oct. 4th = HOPE Meeting; 6:30pm in the cafeteria
Fri. Oct. 5th = NO SCHOOL; Diocesan Teacher's Convention

Mon. Oct. 8th = NO SCHOOL; Columbus Day
Sat. Oct. 13th = HCS Annual Dinner Auction; doors open at 5:30pm. For more info, message or email me!
Week of September 17th  2018 …
THIS WEEK WE WILL…
Literacy
Learn all about the Letter Bb; what it looks like, how it sounds & words that begin with it
Learn the Letter Bb action song
Air-write, trace & write the Letter Bb
Work on Letter Bb letter recognition
Sing the song "The Wheels on the Bus"
Math
Continue to learn about ABC patterns
Continue to count our Zero the Hero numbers (10, 20) and count on for the number of days of school
Use pattern blocks to create a bear
Use play doh to make the #1 & #2 & show the numbers on a ten frame
Work on number recognition for #'s 1-6
Play a Roll, Count & Color game
 Social Studies / Science
Learn all about the color RED
Play with red discovery bottles
Draw red pictures
Play "Hi Ho Cherry O"
Learn about Bus Drivers
Learn about bubbles
Blow bubbles
Make bubble art
You can also learn more here with the ABC's of Holy Childhood Preschool 4 Year Olds.